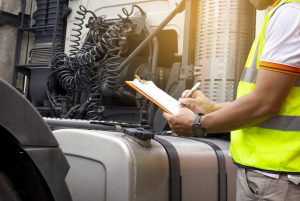 What is the HD I/M program?
Mandates that in order to operate in California, all heavy-duty non-gasoline vehicles with a GVWR of more than 14,000 pounds must pass emissions checks.

Comparable to a Smog Check program for large trucks.

To assure emissions control systems are maintained and working correctly, periodic inspections are necessary.

Guarantees prompt repairs to reduce excess emissions.
Who is impacted by the HD I/M program?
Owners and drivers of non-gasoline vehicles traveling in California with a GVWR exceeding 14,000 pounds.

Testers who check HD I/M automobiles for compliance.

Freight brokers and contractors who operate HD I/M trucks in California.

California-based freight facilities that are appropriate and accept HD I/M-eligible trucks on their grounds.

OBD test device manufacturers who create and market testing equipment used to conduct compliance checks on HD I/M automobiles.
Vehicles affected by the HD I/M Regulation
QUALIFYING VEHICLES:
All non-gasoline heavy vehicles operating in California with GVWR greater than 14,000 lbs.
This includes:
All diesel, alternative fuel and hybrid vehicles.

All California licensed, out-of-state (OOS) and out-of-country vehicles operating in California.
EXCLUDED VEHICLES:
Zero-emission heavy-duty vehicles.

Emergency vehicles.

Tactical military vehicles.

Motor homes registered outside of California used for recreational purposes.

New vehicles with engines certified to most stringent optional NOx standard (only for first 4 years of the program).

Vehicles with a permanent Historical Vehicle License Plate.

*Vehicles operating under a CARB-issued experimental permit.

**OOS vehicles operating under a Governor's emergency declaration.

Gasoline heavy-duty vehicles already covered under the Bureau of Automotive Repair's Smog Check program.
Vehicle Owner Requirements
Vehicle owners must ensure all their vehicles operating in California are compliant.
A vehicle is compliant with the HD I/M requirements when:
There are no outstanding enforcement actions.

The annual vehicle compliance fee is paid(Effective no earlier than 7/1/2023).

The owner and vehicle information has been reported (Effective no earlier than 7/1/2023).

The vehicle is compliant with the periodic emission testing requirements (Effective no earlier than 1/1/2024).

Existing Periodic Smoke Inspection Program requirements apply until HD I/M periodic compliance testing begins in 2024 timeframe.

Official start dates dependent on the rollout of the HD I/M program database. CARB will provide notice prior to effective dates.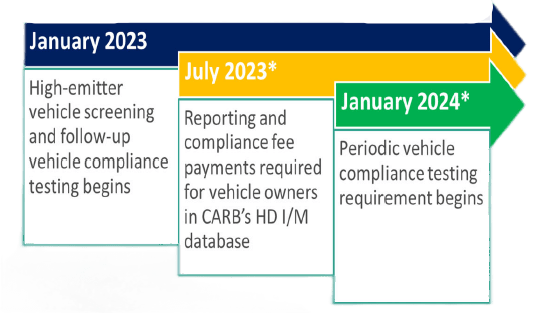 Vehicle Owner Requirements at Program Launch for

HD I/M
Starting 1/1/2023

High-Emitter vehicle screening

Remote emissions monitoring systems (REMS) to detect emissions from moving vehicles

A Notice to Submit to Testing (NST) will be issued to any vehicles in California that have been identified as potential high emitters.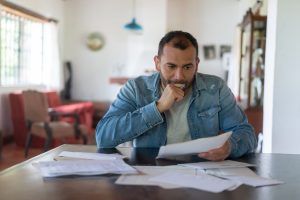 Notice to Submit to Testing (NST)
NST mandates further testing for vehicles.

Must provide CARB with a valid vehicle compliance test within 30 days.

If a passing compliance test isn't provided within 30 days, the HD I/M program will not be followed, and enforcement action may be taken.
Reporting & Compliance Fees for Owners
HD I/M database is now being developed.

Vehicle owners will be required to record fleet and vehicle information and pay a

$30

per vehicle yearly compliance charge.

Identify the qualifying vehicles within your fleet by creating an account in the HD I/M database.

To avoid duplicating reporting tasks, the HD I/M database will extract vehicle information from existing CARB databases.
Annual compliance costs will be paid through a vehicle owner's account page.
Compliance & Reporting Fee Schedule
Requirements for reporting and compliance fees won't go into effect until July 1, 2023:
At least 90 days' notice is required before these restrictions take effect.

Updates are accessible on the HD I/M and CARB Truckstop websites.

Sign up for the HD I/M email notification service to get the most recent details on the rollout and timeframe:
Before the primary reporting is required, tutorials for the HD I/M database will be made accessible.